I haven't posted in a while, but don't worry I have been keeping busy. There has been a lot of roller derby going on lately, I will elaborate on that later.
Ah, summer time. Mosquito bites and tan lines. I am starting to feel it, along with the heat. I am not complaining, its a wonderful time. I find I am having a hard time hanging out indoors when its so nice.
I wanted to grow some herbs on the windowsill of my craft room. I started them from seeds. The window faces south east and is quite sunny. The ones in plastic pots and cups seem to be growing a lot faster. I am having a bit of trouble with the mint.
Apparently, herbs weren't the only thing I was growing when I noticed a little fungus pop up over night. I set the pot outside in the sun and it shribbled up.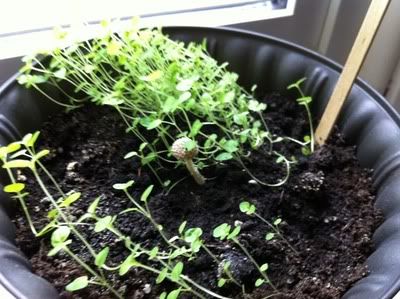 Although it was a cute little mushroom, he had to go.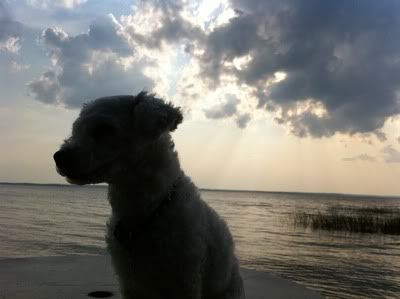 I was so happy when I finally made it out the the lake. My dog loves running wild on the private beach. She doesn't enjoy swimming, but she can do it. I sometimes take her in when its hot. She is mad at first, but I know she feels better.
FITNESS UPDATE!
So far, since my last post I haven't lost any weight. BUT I have been keeping up with exercising 3 or more times a week. I haven't measured lately, but I am assuming its because I am gaining muscle. (Trying to stay motivated) Lately I have been roller skating outside. I go down the bike trails because I don't have to avoid cars, just dogs, children and bikes. The city put in a bunch of exercise parks outside. They are pretty nice. The trail leads to one and I have used it a couple of times. Outdoor skating is working my core a lot more than skating inside. I have been going out the past 4 days in a row and getting up in the morning, I could feel it. Awesome! Even more of a reason to keep it up.
I have been working on my art journal and mail art a bit. Look at the big pile of art I need to address and send. Eek, it piles up so quickly. Now that the strike is finally off, I am more motivated to get on this.
I will try to post once a week, sorry for the delay.