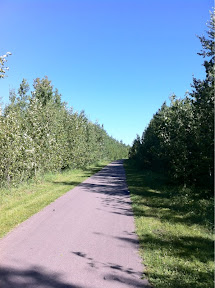 Beautiful day! Clear skies and a shady trail. I am so happy I got up early today. Just enough time for me to go for a skate before work. I love the bike trails around here. The grass is cut and any branches that fall are cleared away. They fill any cracks so it's nice and smooth. Perfect for rollerskating. No dodging passing vehicles, other than the occasional bike. Sometimes runners and dog walkers, but they smile and continue on their way. The trails all connect and lead to parks.
These are new and in most areas of the city. Exercise parks. They are set up to use your own weight as resistance. Push or pull ad the seat rises or swings. They are also all doubled so it's easy to workout with a friend. The mats are squishy and great to sit and stretch.
Open to all and no membership. And as you can see here, not crowded.
I get onto the trail a block away from my house and do a 30 minute brisk skate. I go down the trails only having to cross the street a few times, I pass several parks. I skate until the trail ends and head back the way I came. If I have time I stop at the exercise park for a few minutes.
Lately, I find it hard to get out. Working weird shifts, rain, or might rain. Yesterday I made it into the house as hail began to beat down. Hours later it was sunny, like it never happened.
I have been skipping rope for cardio and finishing my workout inside. Good because then I can easily escape the rain when it starts. My theory is a little exercise is better than none.
I also have missed a lit of roller derby practices. Some have been canceled lately because the floor is wet from condensation, too slippery to skate or roof leaking water on the track. Others I missed to work. (lame)
I love the days I can tie my skates and roll out the door. Get my exercise and enjoy the sun.
- Posted using BlogPress from my iPhone