Maybe we should have noticed the signs. It was obvious from the beginning, this trip was going to test us. How much can we take?
We were excited for months about this trip. House boating on Shuwap Lake in British Columbia. The boat has 3 levels (with a bar on each one) and even a hot tub! Sounds like a great time! We only knew one person on the boat. He planned the trip and this was the third year his friends have done it. They had so many people that they booked 3 of these amazing houseboats.
This is the photo from the website. Looks like a good time.
(Twin Anchors website)
We packed up the night before. To save time, B loaded everything in the truck. We took a 3 and half hour nap and were heading out. I put my art journal in the back seat and heard the quiet crash of shatter proof glass hit the ground.
The passenger window was broken, my purse and my bag of travel clothes were taken. (B didn't realize it's a no no to put a purse on the seat of a vehicle, especially at night. I wasn't mad, I should have noticed when he was loading the truck) My luggage was also taken and dumped in the parking lot behind our house. I found it when the police man showed up. I got B to bring it into the house, I wanted to keep looking to see if they ditched my purse too. I walked with a flashlight for a few hours. Nothing. Later my room mate found my small bag and pillow that was also taken on a bike trail (the jeans, belt and hoodie that was inside not with it) Later we walked all around the trail and looked for signs of my purse. No luck. I made posters and put them in the convenience stores nearby. I
posted an ad on kijiji
with the same info. The thing is I want my cards, the rest I don't care about. I can replace my wallet and purse easily. (oh no, purse shopping) I just don't want anyone using my ID anywhere.
I have never had anything stolen from me before. I didn't know how to feel. I was kinda mad...Kinda sad...Kinda "are you F'n kidding me?"... And mostly blah...
We spent the day canceling cards and getting new ones. Washing my clothes. Cleaning broken glass, replacing it. We attempted to go shopping to cheer us up and replace my jeans. We were both feeling... blah... So we went home to take a nap. Later we decided to get sushi. Now that cheered me up. (the awesome powers of sushi) I was once again excited for the vacation.
We packed everything again and set it by the door. Went to sleep and set an alarm to be up for 2am. Instead of the snooze alarm I set it again to 3:30. It didn't go off. (yet another ignored sign) We slept in until 5:30 and slowly made our way.
The beautiful drive into the mountains was cheerful and boosted our mood. We then got a boat taxi out to the houseboat.
Lovely day to spend with my boyfriend. We thought it was all looking up from here. Drinks in our hands, we introduced ourselves to new people.
When we went to put our stuff in our room, we were told we don't get one. The couches and fold out beds were taken too. "you can sleep on the deck upstairs." like we didn't get crapped on enough already. We spent a few hours on the boat trying to have a good time. We couldn't. We called the boat taxi and left.
We put our stuff in the truck and went to the pub for a drink and to get a taxi to a hotel. B had "the best caesar ever" I had water. We made some calls and found out that all of the hotels, bed and breakfasts and motels were full. Of course they are. The waitresses were nice and tried to suggest more places. We were planning to sleep in the truck. One waitress asked us "You aren't freaks or criminals, are you?" um no, we aren't. She offered to let us stay at her rental house. It was empty, no tenants until next month. Finally, things were turning around.
There was a loveseat and chair, otherwise empty. Recently renovated and clean. We decided to sleep on the floor. We were fine, a lot better than sleeping outside. I slept well considering the floor was wood.
I decided to check out the back yard in the morning. Eat some fruit and enjoy the sun. I found that creepy dog toy, made me smile. A wasp landed next to me and started to groom himself. It left my fruit and juice alone. Today is already better, yesterday I imagine it would have stung me.
Before we fled Sicamous, we stopped at the D Duchmen Dairy for some ice-cream. Delicious REAL ice-cream made in that dairy, packaged and brought up front for all to enjoy. Anyone who drives through will tell you they stop too. Too many flavors to choose from... I got an "Above Average" size waffle cone, which is 2 scoops. Each scoop measuring to around a pint. I felt like a child holding such a big cone in my hand. We wandered around and looked at the cows, calves, chickens, donkeys and a camel. After devouring our monstrous cones we continued our drive, back to Alberta.
It's a hot and sunny day. Lovely driving. We took our time and stopped for dinner in Golden. Lots of time to enjoy good conversation. I love spending time with B.
Along the way we decided to salvage what we had left of our trip my stopping in Banff and spending the night. We have never been inside
the Banff Springs Hotel
(just drove past to admire it) until now. We stayed in their second best grade of suite, complete with jacuzzi tub and king size bed. I felt like a princess walking into a castle.
We didn't have time for a full tour, but I took a few pictures.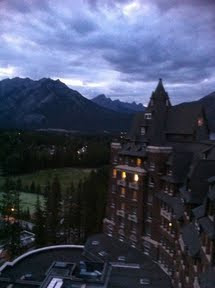 We were on the 9th floor, our room had awesome views from each window. (270 view)
Jacuzzi tub in the first bathroom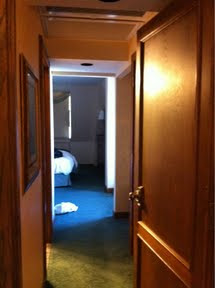 Another hallway to the bedroom and second bathroom.
Comfy king size bed.
Quick scribble in my art journal.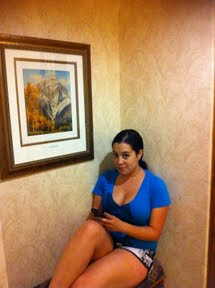 In another nook, blogging.
Pretty views in the morning. I love the snow dusted peaks of the mountains.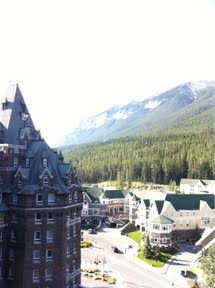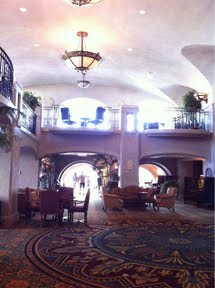 The Mezzanine was beautiful. I wandered off while waiting to be seated for breakfast.
Same Mezzanine, from the other side. We agreed to do the full historical tour another day. We had to head home for a BBQ out at the lake.
Driving home. We survived every mishap and disaster, without being defeated. B and I agreed that this trip proved that we can head out on a terrible and expensive vacation without getting mad at each other. It ended like a fairy tale, prince charming and a castle.
Happily Ever After.
- Posted using BlogPress from my iPhone